This post may contain affiliate links. As an Amazon Associate, I earn a small commission on qualifying purchases, at no extra charge to you. However, all opinions and recommendations are fully honest, transparent and my own.
---
---
Researchers recently determined that pregnancy is basically like running a marathon for 9 months. I'm not kidding, check it out. Duke University professor Herman Pontzer says, "Pregnancy is the most energetically expensive activity the human body can maintain for nine months."
That's just being pregnant… I don't think they took into account managing a household, holding down a full-time job, parenting other children, working out… putting on shoes at 9 months pregnant……
SO. I think the pregnant mamas deserve a little pampering. Am I right?!
This Mother's Day, may I suggest spoiling the pregnant mama in your life with a gift that helps her relax and ease those aches and pains of running a 9-month marathon? Some of these gifts are small and would make a perfect pampering gift basket all together!
I also have a gift guide for Practical Mother's Day Gifts for Pregnant Women as well, full of gifts she'll most definitely use on the regular.
GIFTS TO PAMPER THE MOMMY-TO-BE
Amazon reviewers (and I) LOVE this massager. Pregnancy leaves you with aches in muscles you didn't even know you had. For me personally, I get terrible tension headaches during pregnancy, and this neck and shoulder massager helps tremendously!
You may also consider getting her a prenatal massage. But be sure to check that the location specializes in massage for pregnant women (some masseuses won't service pregnant women).
2) Muscle Soak
A nice warm bath is so soothing for achy joints and muscles. Give momma's bath water some extra pain-fighting oomph with this Dead Sea salt bath soak.
I will caution gift givers to be wary of just any bath soak. They can contain fragrances, oils or herbs that are considered unsafe during pregnancy. In addition to the Pink Stork brand (which is really just Dead Sea salt), plain epsom salts and oatmeal bath soaks (great for relieving itchy skin) are a safe bet.
3) Neck Warmer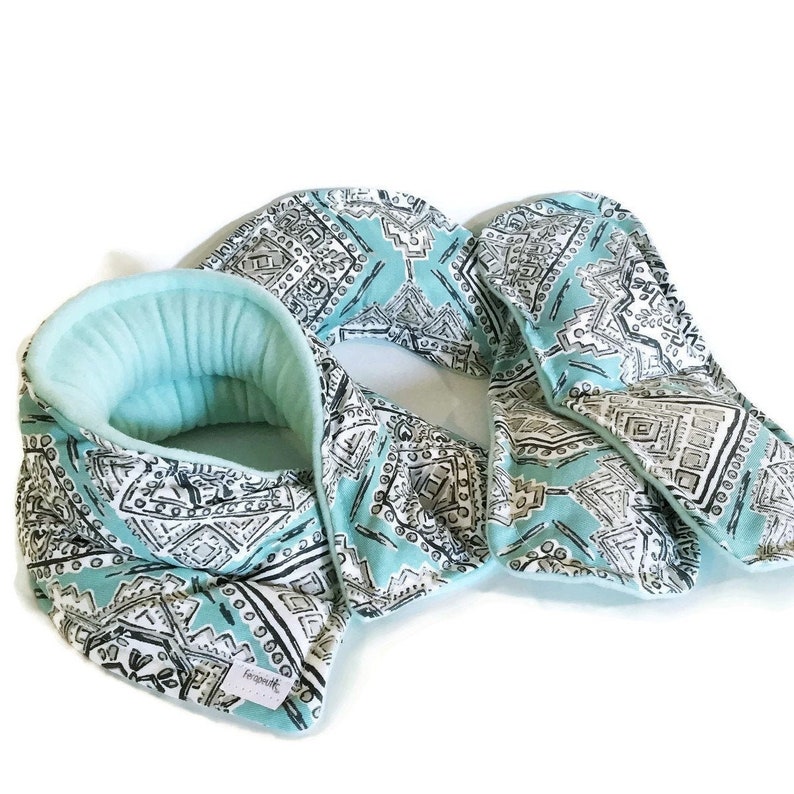 I have one of these rice-filled packs that can be frozen for a cool compress or warmed in the microwave as a warming treatment. It's the best!! This particular set comes with one for momma's neck, foot warmers to put in your socks, and a multipurpose rectangular pack. You can choose unscented or a lavender scent, and there are tons of fun patterns to choose from as well.
4) Funny Socks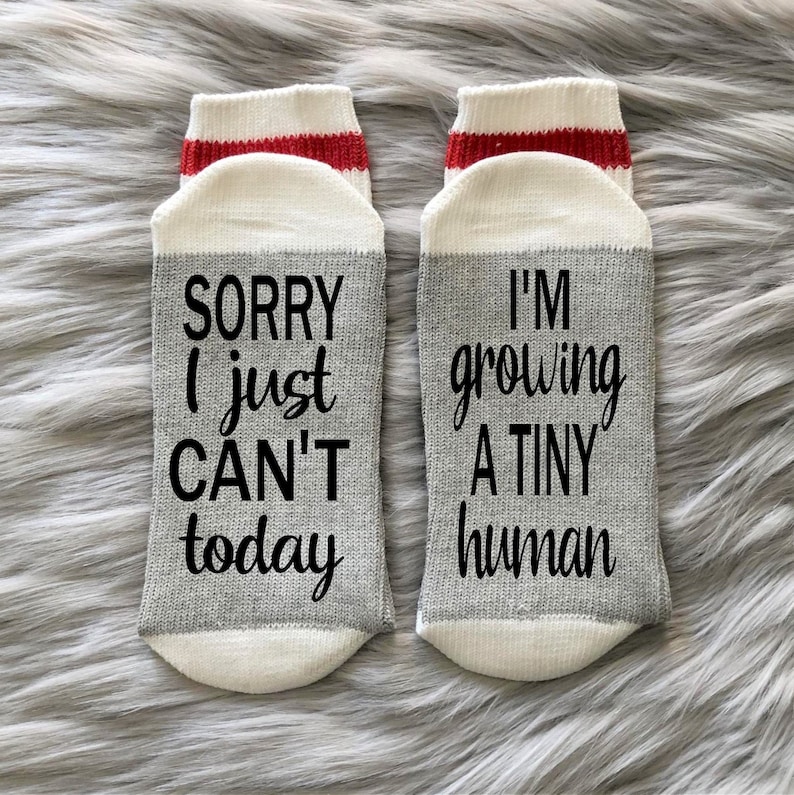 'Nuff said.
The mocktails in this recipe book look fancy and delicious! Momma won't feel left out at her girls' night with one of these tasty treats whipped up. The book also has tips for "de-virginizing" the drink for dad.
Consider including a set of fun "mocktail" glasses, too! Like these copper martini glasses. Add #9 on this list as well for a cute gift basket.
My in-laws have a foot massager like this one and I must admit it is quite nice. It doesn't beat an actual foot rub, but it's a close runner up. All that extra baby weight is hard on momma's feet, especially if she doesn't have much time to rest during the day. A nightly foot massage (that she doesn't have to beg hubby for) would be such a wonderful gift!
Pair this with some memory foam slip on shoes (or #8 on this list) and the bath soak mentioned at #2 for the ultimate pregnant feet treatment!
This maternity and nursing pajama set will be comfortable for momma to lounge around in and still allow her to feel cute! In my experience, it's hard to be extra comfy and not feel like a slob during pregnancy since I'm usually wearing mismatched extra large pajamas or my husband's t-shirts.
Also, these maternity lounge shorts are SOOOOO comfortable and still really flattering for momma's new curvier figure.
Again with the feet. Have I mentioned that pregnancy takes a toll on your feet?? Find some super soft slippers with memory foam to give momma a little cushion in her step around the house.
9) Wine Soap
While she can't have that relaxing glass of wine at the end of a busy day, she can enjoy a warm bath with this phthalate-free wine SOAP! Reviewers love it and say it smells amazing, lathers well and doesn't dry out the skin. This unique gift is sure to be a hit!
(May I suggest, in your card, remind her not to use this before getting behind the wheel… one reviewer mentioned she was pulled over after washing her hands with this and the cop thought she was drinking… ha! Woops! At least we know it smells authentic!)
10) Some down time!
Momma needs TIME to pamper herself. Life gets busy and things need to get done, and mommas with a job or other children have very little time for themselves. Do whatever you can to help her make the time to focus on self-care, whether that's offering to make dinner and clean up one night while she rests or babysit the kids. She'll be ever-so grateful!
---
Also be sure to check out my other Mother's Day Gift Guide for Pregnant Women that includes more practical gifts she's sure to use on the regular.
---
If you enjoyed this post, please consider sharing! You can also like my Facebook page to keep up with new posts and other helpful 3rd party news I share.