This post may contain affiliate links. As an Amazon Associate, I earn a small commission on qualifying purchases, at no extra charge to you. However, all opinions and recommendations are fully honest, transparent and my own.
---
What the National Cancer Institute has to say about Antiperspirants and Cancer
This is probably not the most effective way to encourage you to use natural deodorant, but it is important to me to present ALL the facts, so I'm going to start this post by dispelling a pretty big myth about conventional antiperspirant deodorant.
You might have heard that antiperspirant deodorants can cause cancer, specifically because of the aluminum they contain. While many big brand deodorants and antiperspirants do have some questionable ingredients, the claim that they cause cancer is scientifically unfounded.
The National Cancer Institute states:
"Because underarm antiperspirants or deodorants are applied near the breast and contain potentially harmful ingredients, several scientists and others have suggested a possible connection between their use and breast cancer (1, 2). However, no scientific evidence links the use of these products to the development of breast cancer.

https://www.cancer.gov/about-cancer/causes-prevention/risk/myths/antiperspirants-fact-sheet
So there is "concern," and "potentially harmful ingredients," but research has yet to prove a link to cancer. That said, aluminum isn't the only ingredient in antiperspirants or conventional deodorants to raise an eyebrow at. Another big one is "Fragrance/Parfum," which according to the Environmental Working Group, is
"an undisclosed mixture of various scent chemicals and ingredients used as fragrance dispersants such as diethyl phthalate. Fragrance mixes have been associated with allergies, dermatitis, respiratory distress and potential effects on the reproductive system."

http://www.ewg.org/skindeep/ingredient/702512/FRAGRANCE/#
Pretty much, if you're trying to avoid chemicals in your products, throw out anything that has "Fragrance," "Perfume," "Parfum," or "Scent" on the ingredients label, and never buy anything containing those words again. It's a black hole of UNDISCLOSED ingredients. You dunno WHAT'S in it. No thanks.
Finding the Best Natural Deodorant
There are some big-brand deodorants that do not contain Fragrance, so natural isn't your only option to avoid that ingredient. But if I can find a natural deodorant that doesn't raise "concern" about "potentially harmful ingredients" and it does the job, I'm going that route. And I did find one that really works!
In my search for an effective natural deodorant, I tried several and used all of them to the last bits (except one which I threw in the trash after a couple days because it was so bad… read on to find out which one). I wanted to make sure I really liked or didn't like them, and I wanted to get my moneys worth.
I was looking for:
Long-lasting odor protection
Safe, natural ingredients
These are the 4 worth mentioning:
Native
Native Deodorant – Natural Deodorant Made without Aluminum & Parabens – Coconut & Vanilla
I got the "variety" pack so I used Native deodorant for a very long time and got to try several scents. Unfortunately, it was just okay. Amazon contains a lot of mixed reviews, most notably that this is not good for people with sensitive skin.
Not available with Amazon's Subscribe and Save discount as some of the others below are.
Odor Protection: Fair
It was just so so. I didn't feel like it really blocked or prevented odor, rather just masked it with a nice scent, which resulted in some strange whiffs. It worked fine for nice-weather, low-activity days, but was not effective on hot days or when I was more active.
Ingredients: Excellent *
It is made without aluminum, parabens, phthalates, and talc. All of their ingredients are safe according to the EWG and they use oils to create their scents.
* It does contain baking soda, which is by no means bad for you, but many people with sensitive skin have bad reactions to baking soda in their deodorant.
Underarmed
This one was my second favorite. I felt like it worked pretty well and was mostly satisfied with it, but it just wasn't as good as my favorite (see bottom of post). It also ruined a couple of my shirts. At the end of the stick the coconut oil must have been more concentrated, so it left grease stains that I couldn't get out in the armpits of a couple of my shirts… gross.
It is available with Amazon's Subscribe & Save program, so you can save up to 15%, which is always a plus.
Odor Protection: Good
Had much better odor protection than Native, but I still wasn't completely satisfied. There were days where I would have to apply multiple times.
Ingredients: Good *
All ingredients seem to be safe, but one raises a very tiny yellow flag: hydrogen peroxide. The EWG rates it as a 3-5 (which falls in the moderate hazard category) "depending upon usage." And according to the Cosmetic Ingredient Review, "The European Commission restricts the amount of Hydrogen Peroxide that may be present in cosmetic products… These restrictions included a maximum concentration of 4% in products applied to skin." Underarmed's deodorant contains a 3% concentration according to their website, so it does comply with regulations and is generally regarded to be safe. The most likely side effect of hydrogen peroxide in deodorant seems to be skin irritation.
* It contains baking soda, so it may not be a good option for those with sensitive skin.
Young Living AromaGuard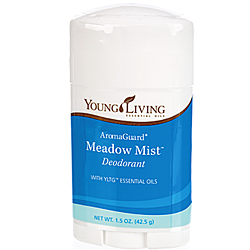 AromaGuard Meadow Mist Deodorant
Bad, bad, bad. My husband is a SUPER frugal person and is physically bothered by throwing things away, and so by the process of osmosis, it now bothers me, too. I tried for days to love this so much because I am a fan of Young Living's oils, and I hated just throwing it away. But it was that bad. After 5 days, it went in the trash.
Odor Protection: Terrible
I felt like this actually made me smell WORSE. It was as if my B.O. smelled extra funky and then you just slapped some essential oils over it to poorly mask the smell. Yuck.
Ingredients: Excellent, BUT…
The ingredients are safe, but they may also suggest why this doesn't work well. The main ingredients are just coconut oil, beeswax, and essential oils. Coconut oil and beeswax are natural antibacterial agents (bacteria is what makes you stink), but they're so mild they're unlikely to be effective on their own for any moderately-active person. While these ingredients are in most natural deodorants, the others usually have additional, stronger odor-fighting ingredients such as baking soda, cornstarch, or arrowroot powder.
MagSol Magnesium Deodorant
Hands down the best natural deodorant I've tried. There are thousands of Amazon reviews, and they love it, too. Personally, I feel like it acts a little bit like an antiperspirant (I feel drier and less "gooey" under my arms than I did with the other natural deodorants I tried). While that doesn't seem to be a common claim from other Amazon reviewers, there may actually be some science in the ingredients to explain my experience (see the ingredients section).
This deodorant is perfect for anyone with sensitive skin. No baking soda! And it still works great!
It is also eligible for the Amazon Subscribe & Save program, so you can save up to 15%.
Odor Protection: Excellent
Now I won't go so far as to say that you're going to get the protection you would with some of those "clinical strength" antiperspirant formulas; you will probably have to re-apply after a workout or day at the pool. BUT it works just as well as your typical deodorant in terms of odor protection. Remember, it is NOT an antiperspirant, though, so you will still sweat.
Ingredients: Excellent
Only contains 4 ingredients: non-comedogenic (doesn't block pores) sweet almond oil, pure food grade magnesium oxide, beeswax, and therapeutic grade essential oils.
Magnesium oxide is the magic ingredient here. It fights against the bacteria that causes B.O., providing excellent odor protection. It is also very gentle (whereas baking soda can be irritating to some), so it's the perfection option for those with sensitive skin.
Earlier I said that I felt this deodorant kept me way drier than the other three deodorants mentioned. This is likely because Magnesium oxide "reacts with water, so it tends to dry out anything it touches." So while it's not preventing me from sweating (as does an antiperspirant), it will likely help keep you drier.
---
What other natural deodorants have you tried? Do you have any favorites not mentioned here?
---
If you enjoyed this post, please consider sharing! You can also like my Facebook page to keep up with new posts and other helpful 3rd party news I share.
---